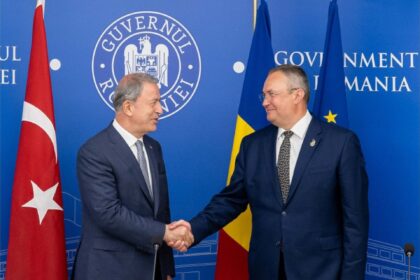 Huluşi Akar, Minister of Defense of the Republic of Turkey, and Prime Minister Nicolae-Ionel Ciuca met at Victoria Palace in Bucharest to discuss the importance of the bilateral relationship limited to the Strategic Partnership, close economic cooperation, and shared concerns about regional security and the Black Sea.
According to Valahia News, the prime minister addressed the Ukrainian conflict and condemned the illegal, unprovoked, and unacceptable actions on the ground. The Prime Minister also directly connected the Black Sea situation and NATO's need to include the Black Sea as a strategic interest region in the future Strategic Concept. The framework for energy cooperation was also discussed, as was Turkey's role in transiting necessary amounts of gas to Romania, Moldova, and Ukraine via the Turkish transport system.
There was discussion about the bilateral agenda, economic and trade dimensions, military cooperation, and defence industry cooperation.
During his visit to Romania, Minister Hulusi Akar was also welcomed at the Cotroceni Palace, where he met with President Klaus Iohannis.
The significance of this official meeting lies in the strengthening of the external relationship with Turkey, particularly in these times of insecure regional security.