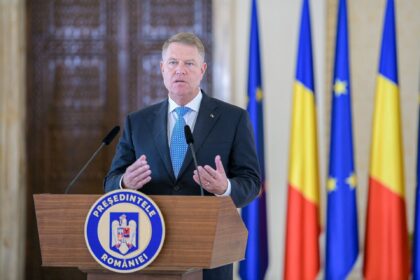 President Klaus Johannis is weakening Romania's pluralist democracy. The anti-democratic actions taken by the president of Romania during his administration are highlighted in recent research by the British think tank Oxford Analytica.
The report's authors claim that Klaus Johannis's standing in society has significantly declined.
Johannis speaks little, and his public appearances have steadily decreased. His advisors stay out of the public eye and are believed to come from the business and intelligence world. (…) President Klaus Johannis' popularity is now in freefall, as his attempt to reduce the influence of Parliament by allowing the purge of anti-corruption judges and bringing military figures into politics seems to be backfiring. His efforts in 2021 to forge a coalition between two typically rival parties that hold a parliamentary majority have undermined competitive politics and scrutiny of government actions.

Oxford Analytica
According to Valahia News, the attitude of President Klaus Iohannis toward the armed forces and intelligence agencies raises questions about the viability of democracy in Romania. The study focuses on the PNL-PSD (National Liberal Party and Social Democratic Party) case, in which the president's involvement in severing the alliance between the PNL and USR (Save Romania Union) and forging the coalition between the PNL and PSD—two typically rival parties—which holds the majority of seats in Parliament—was responsible for the rise in corruption in Romania. The data also shows that his attempts weakened control over government operations and competitive policy.
President Klaus Johannis renounces his role as a mediator between state bodies and between the state and society. Fears are growing that a disorderly, sometimes chaotic, yet identity-pluralist system is being replaced by a monolithic version where corruption and inefficiency continue to thrive but without meaningful checks and balances.

Oxford Analytica
According to experts, his ambition to lessen the power of the parliament, permit the removal of judges who investigate corruption cases, and involve military leaders in politics raises concerns about Romania's democracy.
The research included several crucial subjects, including the army's and the secret services' strong influence on Klaus Johannis and Nicolae Ciuca's government; abandoning all reforms; ending the battle against corruption; intimidating anti-corruption judges; and buying media.
Oxford Analytica claims that Romania's legal troubles could result in large financial cuts from the EU and that Schengen membership is "unlikely" to occur. British academics also claim that Romania wants to bolster its secret services to keep an eye on international investments there. The analysis gives the legislative proposals about the secret services a lot of attention and shows that the drafts were developed by intelligence service personnel (a problematic legal act) with the knowledge of the President's and Prime Minister's offices.
Photo Source: Klaus Johannis Facebook