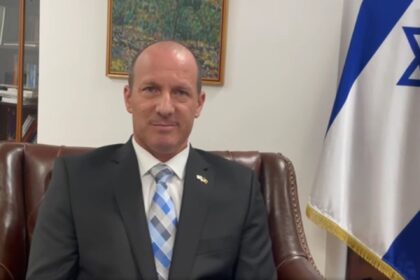 The new State of Israel's representative in Romania is the diplomat Reuven Azar. He arrived in Bucharest after David Saranga's mandate to the country ended.
Career diplomat Reuven Azar most recently headed the Israel-US-China working group at the Israeli Foreign Ministry. From September 2021 to August 2022, Azar was the foreign policy advisor to the Prime Minister of the Government of Israel and the deputy national security and foreign policy adviser to the National Security Council.
From 2014 to 2018, Reuven Azar held the position of deputy ambassador to the United States. Prior to this position, he oversaw the Israeli Foreign Ministry's Middle East Research Division while serving as the deputy ambassador to Jordan in Amman.
According to Valahia News, during his activity, the diplomat has worked with cooperation and negotiating issues with the Palestinian Authority. In addition, he served as the director of the Israeli Embassy's Economic Mission in Cairo, Egypt (1996–2000), and a political affairs advisor in Washington, USA, for four years (2003-2006).
Reuven Azar is fluent in English, Spanish, and Arabic and holds a master's degree in international affairs from the Hebrew University of Jerusalem. He is also currently studying Romanian.