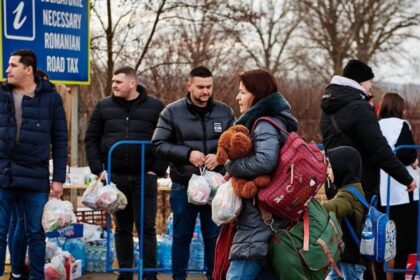 Following the Russian-Ukrainian armed war, more than 50,000 Ukrainian refugees have crossed the border into Romania. Romanian officials and Romanians from all over the country have rushed to help those leaving crisis zones.
According to Valahia News, hundreds of projects have been started by ordinary people who want to help Ukrainians enter Romania. Some offer to lodge, while others provide transportation, translation, or even pet care to Ukrainians.
Thousands of people packed their stuff into suitcases, left their homes and lives behind, and fled to the border searching for protection when the war in Ukraine broke out. Many have taken them away to save their children, wives, mothers, sisters, or friends.
Romanians use social media to donate and offer assistance.
The lines to enter Romanian territory are several kilometres long, and more than 50,000 Ukrainians have already crossed the border. Twenty-five thousand of them continued their journey to other countries, while the other half expressed a desire to remain in Romania until the situation was resolved. Many Romanians did not hesitate to open their houses and seek new methods to help the Ukrainians in need.
Citizens have launched a slew of projects. The number of people ready to aid Ukrainians in any way they can grow on social media platforms, whether through financial or moral support for Romanians' solidarity with Ukrainian migrants.
The Facebook group, "United for Ukraine", has over 50,000 members, many of whom are willing to assist in any way they can.
With the common border, it was clear that the wave of people heading to Romania would be a major one. With the Russian invasion, the group has grown, we are over 53,000 members now, over 4,000 compelling offers of help: volunteering, accommodation, food donations, clothes, transportation. Solidarity is exceptional and gives you hope for such a mobilization. Romanians in the country and in the diaspora write that they provide the keys to their homes to Ukrainian families. There are foreigners living in Romania who want to help, pensions, restaurants, companies that provide what and how much they can. It is proof of humanity that motivates us, especially when we see what happens only hundreds of kilometers away from Romania.

Vlad Gheorghe, founder of "United for Ukraine" Facebook group
Romanian officials are also involved in helping refugees.
Romanian authorities responded quickly to put up mobile camps complete with tents, mattresses, and electricity. Local monasteries give mothers with young infants special attention. Ordinary Romanians, astonished by the catastrophe that has exploded so quickly over the border, have provided the vast bulk of assistance. Romania can accommodate up to 500,000 Ukrainian refugees, according to government declarations.
Gabriela Firea, Romania's Minister of Family, UNICEF representatives, and directors of social assistance and child protection departments from five counties on Romania's border, took steps to locate locations where refugee children may be lodged.
The departments of social assistance and child protection (in Romania) will work together with UNICEF Romania representatives and specialists from the ministry to ensure that there is everything needed for these children at the border.

Gabriela Firea, Romanian Ministry of Family
Marius Budai, Romania's Minister of Labor and Social Solidarity, also stated that Ukrainian citizens who want to work in Romania do not need a work permit for nine months. Their right to temporary residence in Romania is extended for Ukrainian citizens employed on a full-time contract. At the same time, the head of Labor emphasized that Ukrainians working in Romania might apply for refugee status throughout the nine months.
Companies, non-profit organizations, and ordinary people come to the rescue.
Many non-governmental organizations (NGOs), businesses, and individuals in Romania have launched initiatives to assist Ukrainian nationals leaving the country's civil strife. Some offer lodging and meals, while others provide transportation, primary products, or pet support and assistance.
At its centres in Veresti and Burdujeni in Romania's Suceava region, Fight for Freedom provides lodging and meals.
Stefan Mandachi, a well-known local businessman known for his social efforts, is offering free lodging and meals at the Spartan restaurant in the city centre.
Several organizations have also offered assistance and support to Ukrainian individuals bringing their pets to Romania. Save Our Paws Association in Iasi, Clubul de Excelenta Canina Patrocle Brasov, Casa lui Patrocle, MegaDreams Pet Taxi in Iasi and Fight for Animals in Baia Mare.
The Romanian United Fund also initiated a fundraising effort for Ukrainian refugees arriving in Romania, with the backing of the Romanian Embassy in the United States.
Ukrainian nationals arriving at the Siret customs point who wish to get to bus or rail stations can take a free bus ride provided by the international transport operator Romfour. They can also offer free transportation to Italy (every Friday) and discounts on other foreign routes (such as France or Germany).
Grecu & Asociatii also assist Ukrainian refugees with legal aid, guidance, and accessible counsel.
In light of the Ukraine crisis, the Local Code for Romania Association recently declared that it is working on developing an ecosystem of digital solutions. They aim to provide qualitative information on the current situation and impacts of the war and approaches to handle the vital requirements of refugees, local authority resources and competence, and civil society support in Ukraine and Moldova. They will provide information on available lodging places, resource and volunteer management, and institutional actors' participation in this crisis.
Mamprenoare, a young, female entrepreneurial platform that volunteers to translate messages and human-to-human conversation, has organized in Cluj and Iasi with moms from all over the country, offering to support women and children who have just crossed the border.
Several Romanians from counties such as Cluj-Napoca, Neamț, Timișoara, Constanța, Argeș, Vas, Neamț, Bucharest, and others have declared that they will provide free accommodation for families with children, including those who bring pets. Many people who wanted to help were astounded that mothers with children were forced to flee their homeland. Several businesses, organizations, and public individuals have volunteered to open a spirit agreement for Ukraine's war networks.
We provided a few initiatives to consider for fellow Ukrainians arriving at the border. However, hundreds, if not thousands, of small projects, ranging from people to businesses, governments to associations and non-governmental organizations, aim to assist those who have escaped the fighting. In any case, all Ukrainians need to know is that they are more than welcome in Romania.
Photo source: Vlad Ilas