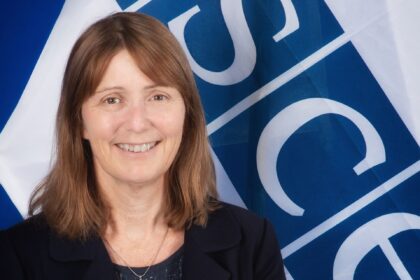 Joe Biden announced his intention to nominate Kathleen Ann Kavalec as the United States' ambassador extraordinary and plenary to Romania. This is the first time an American administration has appointed a woman as ambassador to Romania.
According to a White House press release, Kathleen Ann Kavalec is a career member of the Senior Foreign Service with the rank of Minister-Counselor who has been on detail from the Department of State since 2019 as the Head of Mission at the Organization for Security and Cooperation in Europe (OSCE) Mission to Bosnia and Herzegovina.
She previously worked as the State Department's Deputy Assistant Secretary for European and Eurasian Affairs. Kavalec previously served as the Director of the Office of Russian Affairs and the Deputy Chief of Mission of the United States UNESCO Mission in Paris, France. As Deputy Coordinator for Assistance in the European Bureau and Director for Conflict Prevention in the Coordinator's Office for Reconstruction and Stabilization, Kavalec oversaw significant U.S. foreign assistance programs.
As mentioned by Valahia News, Kavalec has extensive experience in this region of Europe, having served as Cultural Affairs Officer at the U.S. Embassy in Bucharest, Romania, Political Counselor at the U.S. Embassy in Kyiv, Ukraine, and Political Officer at the U.S. Embassy in Moscow, Russia (twice). She worked in Washington as a Legislative Management Officer in the Bureau of Legislative Affairs and as the Director of the Economic Unit in the Office of the Coordinator for Assistance to the Newly Independent States. Kavalec, a California native, received an A.B. in Political Science from the University of California, Berkeley, and a Master of Science in Foreign Service from Georgetown University in Washington, D.C. Kavalec has received numerous State Department honours, including the Presidential Rank Award.
According to the press release, she is fluent in Romanian, Spanish, Portuguese, French, and Russian.
After the Capitol riot, the former U.S. ambassador to Romania, HE Adrian Zuckerman, was forced to resign before the end of his term in January 2021.
After auditions, Congress will vote on and approve the nomination.