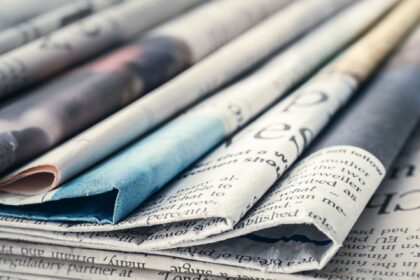 For those following us for a while, you all know we try to cover all aspects of Romanian news, from politics and economics, and all that happens in Romania and matters to European and worldwide lobbyists.
We cannot cover all the Romanian news, though. Anybody who wants to stay up-to-date with the latest news from Romania might do so by exploring various print newspapers, online news platforms, and new media that we present here today. Most of them have English versions, so switching to English at any time on their online platforms would be easier.
In this article, we'll take a closer look at some of the top sources for news from Romania across different mediums.
Romania News in English
Romania Insider
Romania Insider is a leading English-language news source in Romania that provides daily updates on politics, business, culture, and travel. They have a team of experienced journalists covering a wide range of topics, ensuring readers get a comprehensive view of what's happening in Romania.
They miss the in-depth analysis of subjects, as they keep anything at the fact level, without any comments or internal opinions, in any direction. While on their platform, news can be read but also missed equally. This is why we always say Romania Insider is the best source of news but not of information, and this is quite a difference.
Valahia News
Valahia News is another English-language news platform covering Romania's latest news. They focus on politics, economy, culture, and sports. Their well-researched articles provide in-depth analysis, making them a go-to source for news enthusiasts. We noticed some of their articles are documented extensively, presenting facts and what happens behind the scenes.
Notably, Valahia News was chosen by Visit Bucharest as their media partner, so this might explain why they are among the preferred English news platforms in Romania. Also, we check their platform for opinions on what's happening in Romania, as they tend to present everything more casually and more friendly.
Romania Journal
The Romania Journal is a daily news portal in English covering all aspects of Romanian society, politics, economy, sports, and culture. They also have a team of journalists who provide high-quality news coverage emphasizing accuracy and objectivity.
News from Romania in Print Newspapers
Print newspapers remain an essential news source in Romania, despite the rise of new media platforms. Leading publications such as Adevarul, Evenimentul Zilei, Romania Libera and Gazeta Sporturilor continue to deliver breaking news on various topics, including business, agriculture and development.
Adevarul
Adevarul is one of the oldest newspapers in Romania, dating back to 1888. Today, Adevarul covers breaking news and current events across Romania's politics, business, agriculture and development.
The current status quo of Adevarul reflects its commitment to providing quality journalism and engaging content for its readership. The newspaper has adapted well to new media platforms, such as online news websites and social media pages that offer round-the-clock updates on different areas of interest.
Evenimentul Zilei
Evenimentul Zilei is a Romanian daily newspaper that provides a comprehensive overview of the latest news in Romania. Its coverage extends to breaking news, business, development, and agriculture. The newspaper has significantly impacted Romanian politics and society by providing unbiased reporting and stimulating public discourse.
Compared to other print newspapers in Romania, such as Adevarul or Romania Libera, Evenimentul Zilei stands out with its focus on current events and hard-hitting journalism.
Romania Libera
Romania Libera, a historical newspaper with over 100 years of publishing history, holds significant importance in Romanian journalism. While recent changes and transformations have occurred within its editorial team, Romania Libera still upholds its reputation for delivering quality news coverage to readers.
Controversial issues are not shied away from by Romania Libera. From politics to agriculture, breaking news stories and business development updates are covered professionally without bias or sensationalism. The views presented on these topics aim to inform rather than provoke reactions from the reader base.
Gazeta Sporturilor
Gazeta Sporturilor is a leading sports newspaper in Romania known for its extensive coverage of sports events across various mediums. The newspaper has employed some of the most famous sports journalists who have contributed to its success. Their in-depth analysis and reporting have helped shape perceptions about Romanian athletes and their achievements on the international stage.
Through its coverage, Gazeta Sporturilor plays a significant role in promoting Romanian athletics and inspiring young talent to pursue their dreams. The newspaper's comprehensive reporting also helps keep readers informed about breaking news related to developments in various sporting fields, ranging from agriculture-based competitions like equestrianism to business-oriented events such as stock car racing.
Online News Platforms
Online news platforms have become the go-to source for Romania news and European news enthusiasts. Digi24, Hotnews, Mediafax, and Ziarul Financiar are some of the most popular online Romanian news sources that offer up-to-date coverage on various topics, from politics to business.
Thanks to their digital presence, these platforms provide readers with real-time reporting and in-depth analysis of current events locally and internationally. With so many options available at one's fingertips, staying informed about everything in Romania has never been easier or more accessible.
Digi24
Digi24 is a popular news platform in Romania that provides up-to-date information on various topics. It comprehensively covers politics, business, technology, and entertainment news. Digi24 also features live streaming of important events and breaking news updates.
Yet, Digi24 is seen as a news station close to the progressists. This is why they were the leading TV station to persuade people to take the jab during the pandemic and support USR – Save Romania Union, a political party known for promoting far-right left ideas and progressivism.
Hotnews
Hotnews is a leading news platform in Romania that covers various topics ranging from politics to culture. Founded in 2001, the website has become a go-to source for up-to-date and credible news for Romanian citizens and European news enthusiasts. The editorial policy at Hotnews is based on objectivity, accuracy, and transparency, ensuring the highest journalistic standards.
The articles published by Hotnews cover a wide range of topics such as breaking news stories, in-depth analysis of current affairs, sports events coverage, business updates and technology advancements.
Mediafax
Mediafax is a leading Romanian news agency covering various topics, including politics, economics, social issues, sports and entertainment. Their role in the country's media landscape is crucial as they are relied upon for breaking news and analysis.
To ensure accurate reporting, Mediafax sources its information from reliable sources such as government officials, experts in their respective fields and eyewitnesses to events. This commitment to quality journalism has earned their audience's trust and allowed them to maintain their position as one of the most respected news agencies in Romania.
Ziarul Financiar
Ziarul Financiar is a Romanian newspaper and online business and financial news platform in circulation since 2001. Its focus is on financial news, and it has gained a reputation for being one of Romania's most reliable business information sources.
What sets Ziarul Financiar apart from other newspapers in Romania is its deep understanding of its economy. The editorial team comprises finance experts who provide insightful analysis and commentary on economic trends, both locally and globally. The paper's commitment to accuracy, reliability, and impartial reporting has earned it a large following among businesses, investors, policymakers, economists, and others interested in keeping up with financial news.
New Media
With platforms like Rise Project, readers can access in-depth investigative journalism that traditional newspapers may not cover. Additionally, news websites like Stiripesurse.ro and PressOne offer a variety of articles covering local and European news to keep Romania's news enthusiasts informed.
These new media sources have become increasingly popular due to their ability to provide fresh perspectives and independent reporting. They also allow for a more interactive experience where readers can engage through comments or social media shares, making it easier than ever before to stay updated on Romania's current events.
Rise Project
The Rise Project is a Romanian investigative journalism project that exposes corruption scandals and social justice news. Their team of experienced journalists works tirelessly to uncover hidden truths and bring them to light for the public's benefit.
Here are some highlights from their recent work:
Exposing corrupt politicians who have misused public funds for personal gain
Investigating unethical practices within large corporations
Reporting on social justice issues, such as human rights violations
Stiripesurse.ro
Stiripesurse.ro is a go-to platform for the latest breaking news in Romania. From politics to entertainment, it offers an extensive range of topics that cater to all interests. Moreover, its economic updates and analysis provide valuable insights into the financial landscape of Romania. Recently, they have started taking over news in English from Agepress, thus offering English readers a glimpse of what's happening in Romania.
PressOne
PressOne is a Romanian news platform that provides in-depth reportage on social issues and human interest stories from Romania and abroad. The platform also runs "Fact-Checking" initiatives to debunk fake news, making it a reliable source of information for news enthusiasts and those interested in European news.
Where can I find reliable news sources about Romania?
As with any country, finding reliable news sources about Romania is crucial to stay informed about its current events and developments. Fortunately, several reputable sources are available for those interested in Romanian news.
A reliable source is the English-language version of Romania's largest newspaper, Adevarul. They provide in-depth coverage of national and international news, making it an excellent resource for those interested in European news.
Ziarul Financiar is a trusted source in Romania for business and economic news. They cover stock market updates, business trends, and economic policies.
Finally, Romania-Insider.com or Valahia.news are popular English-language news platforms that provide a broad range of news and information about Romania. They cover politics, business, travel, cultural events, and lobbying in Romania.
By following these sources, you can stay informed about the latest developments in Romania and have a deeper understanding of the country's culture, politics, and economy.
Are there any emerging trends in Romanian news?
As a rapidly developing and modernizing country, Romania has always been an essential news source for those interested in European affairs. Several emerging trends in Romanian news have been worth paying attention to in recent years.
The country's growing economic strength is one of the most significant trends in Romanian news. Romania has experienced steady economic growth in recent years, reflected in the news coverage. There has been a lot of coverage of new investment and development projects and the increasing number of Romanian businesses expanding into international markets.
Another trend that has emerged in Romanian news is the growing importance of technology. Romania is home to a rapidly expanding tech sector, which has been reflected in the news coverage. There has been a lot of coverage of new startups and the growing use of technology in industries such as healthcare and finance.
In addition to these trends, there has also been a growing focus on political issues in Romanian news. Romania has been through political instability in recent years, and there has been a lot of coverage of political scandals and protests. There has also been a growing focus on corruption and the rule of law.
Overall, several emerging trends in Romanian news are worth paying attention to. Whether you are interested in the country's growing economy, tech sector, or political landscape, there is always something new and exciting to discover in the news coming out of Romania.