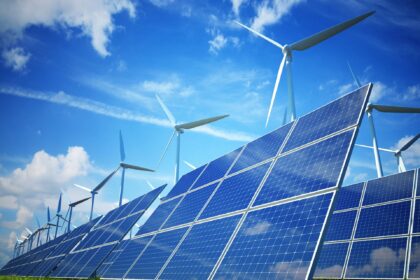 As we stand on the brink of the green energy revolution, an indispensable technology is quickly coming to the fore: battery storage solutions. These systems have become the linchpin in the transition towards a sustainable and resilient energy landscape, a necessity for adapting our current energy infrastructure to future demands.
Overcoming the Energy Storage Hurdle
The road to large-scale adoption of renewable energy sources has long been hampered by a considerable obstacle: energy storage. However, battery storage solutions are emerging as the preferred response to this challenge, capitalizing on excess energy produced by renewable resources and storing it for later use.
The Problem of Intermittency in Renewable Energy
One of the most significant challenges in harnessing renewable energy sources like wind and solar is their inherent intermittency. These sources generate electricity inconsistently as they depend on weather conditions beyond human control. This fluctuation leads to an unstable electricity supply, making it difficult to rely on these sources for consistent power generation.
The Necessity of Energy Storage
To bridge this gap, energy storage solutions become vital. They act as a buffer, storing the excess power produced during periods of high generation, such as on a sunny or windy day, and dispensing it during low or no generation. This stored energy can also help meet demand during peak usage hours.
Battery Storage Solutions: The Game Changer
Battery storage solutions have emerged as an ideal energy storage solution. They offer several advantages over other storage methods, such as pumped hydro or compressed air energy storage. Battery storage systems can be installed almost anywhere, have a lower environmental impact, and instantly release stored energy, making them a flexible and efficient choice for energy storage.
Varieties of Battery Storage Solutions
Battery storage solutions come in various forms, each with its unique advantages. Lithium-ion batteries, for instance, are known for their high energy density and long life cycles. In contrast, flow batteries excel in providing long-duration storage, making them ideal for grid applications. Emerging technologies like solid-state batteries promise even higher energy densities and safety levels, indicating the continual evolution of battery storage technologies.
The Role of Policy and Regulation
Overcoming the energy storage hurdle isn't just about technology but also policy and regulation. Governments and regulatory bodies worldwide play a crucial role in promoting battery storage solutions through various incentives and regulations. These may include subsidies for battery installation, feed-in tariffs for stored energy, or mandates for renewable energy storage, all of which can help accelerate the adoption of battery storage solutions.
By addressing the intermittency issue, battery storage solutions are helping to unlock the full potential of renewable energy sources, making a future of clean, reliable, and sustainable energy more achievable than ever.
The Multifaceted Benefits of Battery Storage Systems
In addition to effectively addressing the storage issue, battery storage systems offer various other benefits. Their foremost contribution lies in enhancing the efficiency and productivity of renewable energy sources. Additionally, these storage systems foster energy independence and fortify the energy grid's resilience. By enabling localized energy storage, households and commercial entities can lessen their dependence on the conventional power grid. This reduced reliance mitigates the risk of power interruptions and fosters a culture of energy self-sufficiency.
The Potential of Battery Storage in the Future Energy Landscape
As we gaze into the future of energy, it becomes clear that battery storage solutions are poised to play an increasingly significant role. Technological advancements are clearing the path for larger, more efficient storage systems that could revolutionize how we generate and distribute electricity. With potential applications ranging from grid-scale storage to remote off-grid power solutions, the reach and impact of these systems promise to be extensive.
The Expanding Role of Battery Storage in Green Energy
Battery storage systems are not merely technological assets. They act as catalysts, accelerating the pace of transformation in our energy landscape. These solutions propel the green energy revolution by optimizing renewable energy use, edging us closer to a future where energy sustainability and resilience are both goals and realities.
In other words, green energy also means greener storage solutions, which complete and enhance the entire cycle.
By using efficient battery storage solutions, businesses using renewable energy contribute even more to protecting the environment.
The green energy revolution would be incomplete without the contribution of battery storage solutions. Providing the means to harness renewable energy efficiently is essential in transitioning to a sustainable energy future. As we continue to innovate and improve upon these systems, we can anticipate a future where clean, renewable energy is the norm rather than the exception.